Introduction
There's this notion that in order to succeed as an entrepreneur you need to sacrifice everything else and work brutally hard. This is stupid because:
You can die tomorrow… Literally.
Your time & energy are limited anyways. It doesn't matter if you work 8 or 16 hours per day - it's still not enough. You need to use leverage ( servers, software, employees, partners, etc ) in order to grow your business.
You probably won't be reciting your churn rate & LTV numbers on your death bed.
No amazing story starts with: "One time I was working late in the office and…"
Now this doesn't mean that you shouldn't work hard - you should work hard! But you should also play hard 🤘 - Life is about balance.
Maybe I'm wrong, maybe you need to "sleep in the factory" in order to achieve monumental success & wealth - but is that really worth it? Is that a life that you want to have? I don't.
I believe that your work defines you - creating something of value is essential to a meaningful life, however, that's not the only component of if - you also need to find Significant wealth, Romance, Good health, Social belonging and Fun times in order to feel deeply satisfied with your life. I plan to write an article on my framework for satisfaction & happiness as an entrepreneur - subscribe to my newsletter to get it in your inbox.
We get brainwashed by "hustle porn" from hype masters like Elon Musk or Gary Vaynerchuk and we try to follow in their footsteps hoping we'll be able to come close to their achievements, but we forget that's probably not the life we want to build for ourselves. At least I don't.
But there is an alternative…
What if you can achieve success and also enjoy life at the same time?
If
@Zuck
can surf waves every morning before work… 🏄‍♂️
If
@DHH
can win Le Mans races… 🏎️
If
@MKBHD
can play ultimate frisbee professionally… 🥏
Why can't me and you, do too?
These guys seem to be doing OK in business…
I spend ~6 months of the year "traveling", and ~6 months in my home base 🏡 ( Sofia, 🇧🇬 Bulgaria ). There is no difference in productivity. The only difference is I don't have to choose between chasing my dreams and enjoying life. I don't stay in the office daydreaming, I just go 🪁 Kite for 2 hours and get back refreshed. That's the beauty of working remotely. That's the freedom of being an entrepreneur.
Enough of the pretty talk - I'm sure you can figure out some places outside of the office you wanna be. But how to stay productive? I don't know what works for you, but here's how I work-n-travel.
Picking the destination
The first criteria for picking a destination is obviously what you want to do there. I travel mostly for activities ( 🪁 Kitesurfing, 🤿 Diving, 🎿 Skiing, 🏂 Snowboarding, etc ), so I look for spots that offer the required conditions: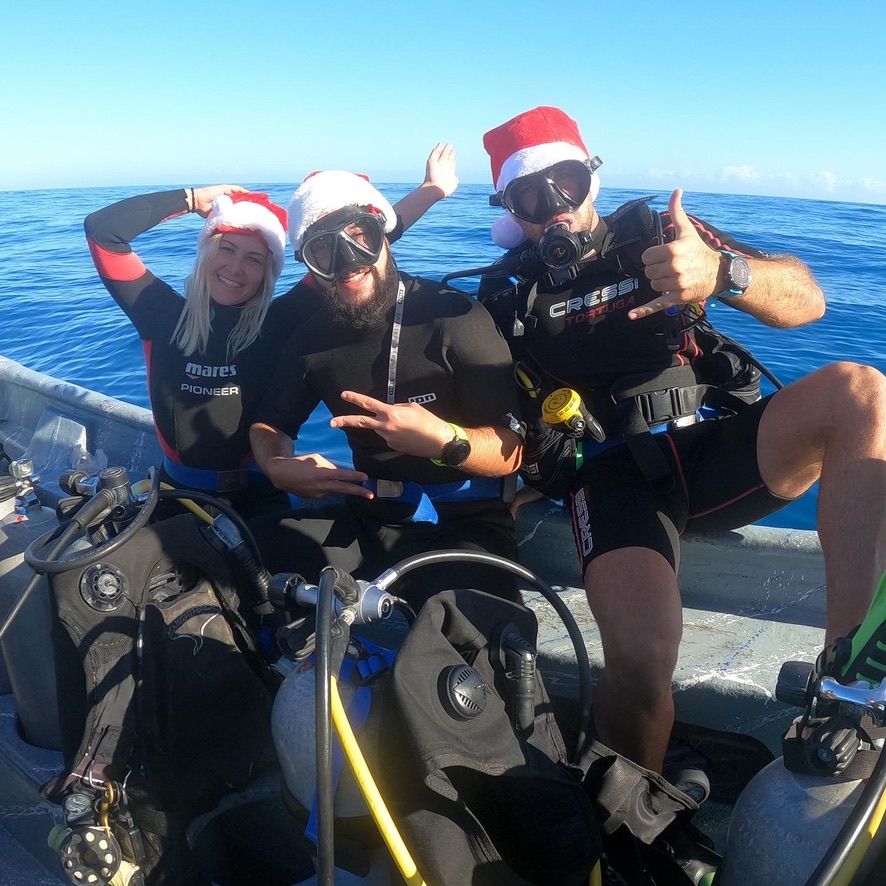 Other criteria that I take into consideration are:
🕧 Timezone - I work in EU hours, therefore anything too far forces me to move my work schedule to an extreme. For example, I spent 2 months in the 🇩🇴 Dominican Republic this winter and I had to wake up at 3:30am every morning 😫
🔌 Connectivity - I need internet to work. There needs to be good internet & cellular coverage in order to be able to function.
🏡 Housing options - It should be possible to rent an apartment / a house, be able to shop groceries and mingle with the locals. I should be able to make myself feel somewhat at home.
Picking a place to stay
In most cases, I work from where I stay - coworkings are not an option as it takes time to go back and forth between the house, the coworking and the activities. I also usually pick more "wild' destinations that don't offer shared offices, thus I need to rent a bigger place with the option to work from there.
This doesn't mean the place needs to be fancy or that it has a dedicated office - a big table with some chairs is good enough for me: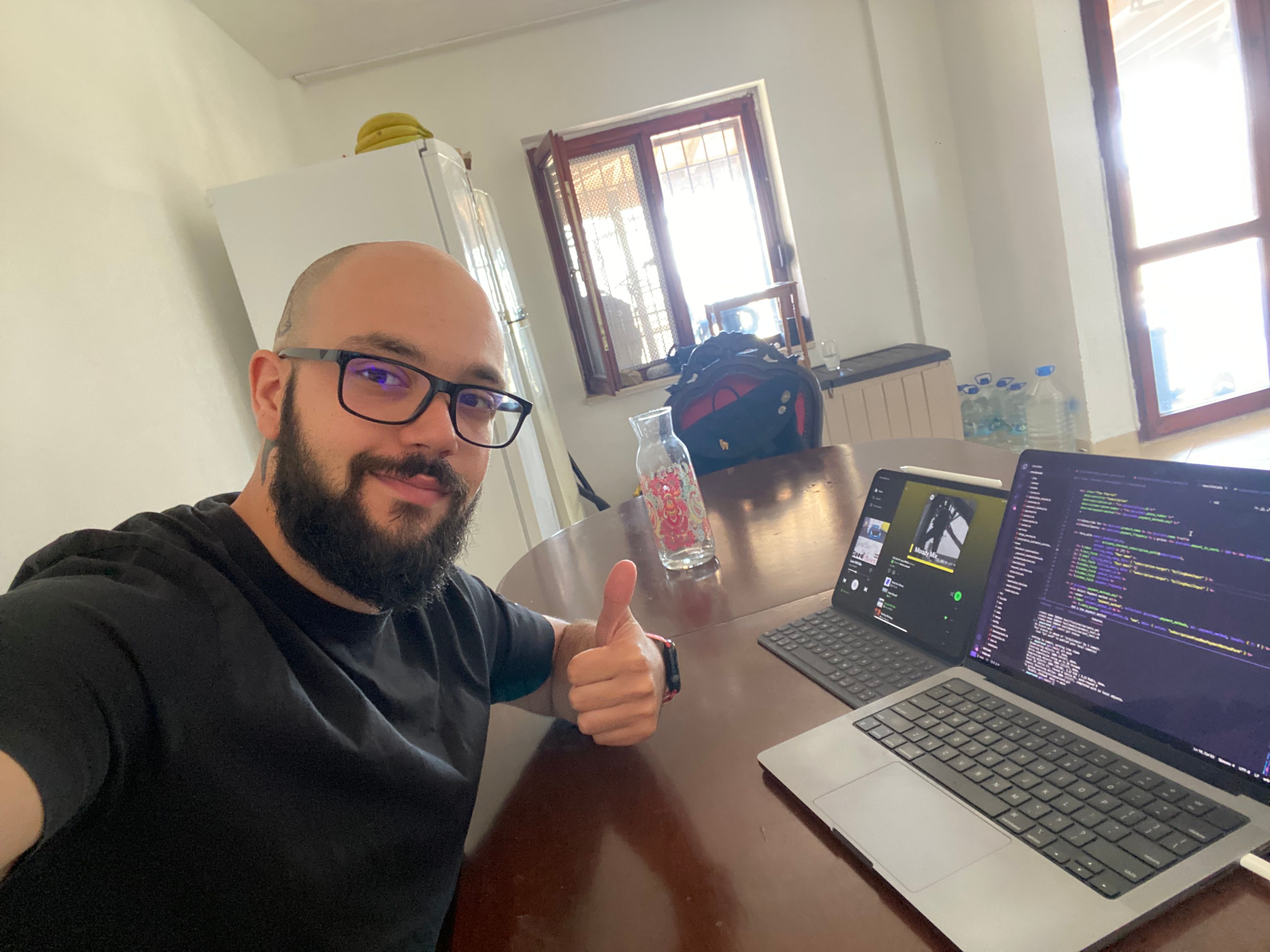 Here are my main criteria when picking a place, based on priority:
Internet ( from the property )
Large living space ( as I'll be spending a lot of time there )
—
Depending if we'll travel by car and take the 🐶 Doggo, I also look for a place that's dog friendly.
Ensuring a stable connection
Internet is mission critical. If there's no stable internet I'll pack my bags and leave in 24hrs as I can't do anything productive without it.
Almost all the places I travel to have unreliable internet so I always ensure a minimum of 2 independent connections. ( 3 is best )
Internet from the property
First line of connection is the WiFi of the property. In Airbnb there's usually information about the speed of the internet connection. Additionally, I read the reviews of the property and search for specific keywords like "internet", "wifi", "connection" to see what people are saying. Some people even ask for a
speedtest.net
screenshot from the landlords.
Mobile internet
Roaming
To be connected when you arrive in a country, you'll need access to affordable roaming, either from your main telecom plan or from a roaming service like
Surfroam.com
. I personally use Surfroam eSim and always have some credits so I can enable it as soon as I leave the EU.
Local Plan
Once you get settled in, it's best to buy a local data plan so you can benefit from 4G and unlimited data to use your phone as a hotspot backup without limits.
There are also "local e-SIM" e-shops like
Airalo
, which claim to sell you a local plan directly, but my experience with them has been mediocre so far. ( Tested in 🇩🇴 DR and 🇹🇷 Turkey )
Starlink
Recently I got a Starlink device and used it for the past month. The internet has been… just perfect 👌. It's fast 👍. It's reliable 👍. My only issue with Starlink is that their "official coverage" is limited and they're forcing me to use their "maritime ocean plan", which is quite expensive. It will be interesting to also see how I can take it on a plane ✈️
I hope they continue to evolve and improve the service as it has the potential to solve all my internet problems. 🤞
Setting a routine
Setting some kind of routine is essential in order to stay productive while you travel. When you travel to exciting places you'll constantly be presented with awesome activities you can spend your time on. Before you know it, FOMO will hijack your brain and you'll start neglecting your work.
The only way to combat this is to have a strict routine with clear time for work and play.
Remember, you're not on vacation. You're working. You're there to spend your leisure time on fun activities, not your working hours.
Fixed schedule
The easiest way to manage your time is to set a fixed schedule. This schedule requires less willpower as you don't have to negotiate with yourself when to work and when to play.
A good example is my schedule in 🇩🇴 DR:
Mon-Fri
10am - Workout & Brunch 🏋️ 🥣
12pm - Get back to work 👨‍💻
3pm - Go to Kite Beach 🪁🏄🌴
Weekend
Explore activities that take more time like 🤿 Diving, 🏄 Traditional surf, etc
Flexible schedule
Unfortunately, a fixed schedule is not always possible as there are sometimes external factors ( e.g. The wind doesn't care about your work schedule ).
Whenever that's the case, you'll need to organise your work around the non-work activities, while maintaining productivity → which requires significant willpower 💪.
In those cases I aim to hit
5 productive work
hours per day which I track with a time tracker (
Toggl
).
—
What's a productive work hour?
For me a productive work hour means deep focused work on a task that's directly connected to achieving my professional goals.
Included in a productive hour:
Building my business ( Code / Design / Writing etc )
Investments-related stuff
Not included:
Breaks ( Coffee, Toilet, etc )
Social Media / Youtube / Reading articles
Any calls that are not directly related to my business ( Touching base ; Advising/Mentorship, etc )
For some people 5 hours might be too much, for others it's nothing - for me - it's on the limit of deep work that I can do in a day.
Trip length
Settling in, organising a schedule, and making yourself comfortable takes time and energy, therefore, you need to stay somewhere significant amount of time in order to justify the trip. On top of that, you'll be working most of the time thus you'll need more days to "get the maximum" out of a place.
For me, the optimal work-n-travel trip length is somewhere between 3-9 weeks:
Anything shorter than that isn't worth the effort to establish myself. I'll either go on a vacation for 1-2 weeks or not go at all.
Over 9 weeks I start getting homesick.
Do you need to be rich to work-n-travel?
If you were rich you wouldn't be working 😆
Jokes aside… depends on your definition of "rich". You definitely need some extra cash when travelling, but I don't believe you need to be a millionaire in order to travel and stay at "exotic" places - especially if you go for work-n-travel.
Most places I go, I don't spend much more than I would spend in my hometown, so cost of living is more or less fixed. The standard of living is lower than the EU for the majority of the world.
I know some of my acquaintances see a photo with palm trees and immediately imagine me drinking champagne on top of an infinity pool with beautiful men and women feeding me grapes, but the reality is - I stay in normal, sometimes shitty places and I give up a lot of comfort for the experience - and it's totally worth it. Again, I'm not on vacation, I'm relocating.
I also meet many Digital Nomads while I travel and they come in all shapes and forms. Some are living in luxury, some rent out their apartment back home and use the money for travel. Some budget, some don't. Both groups enjoy their stay more or less the same.
If you want to work-n-travel and you're doing OK financially, you should be able to pull it off.
Is all that hassle really worth it?
It depends on your values I guess 🤷…
My personal values are:
I want to explore the world and enjoy my hobbies
I don't want to stop working in order to do that
I have been blessed with the opportunity to take a sabbatical, go on an unlimited vacation or even retire. But, I don't want that.
I don't want to lie on a beach drinking cocktails all day long 🌴❌
I don't want to stay trapped in an office building and wait for my 20 days of vacation per year either ⛓️❌
I want to explore, enjoy and create new stuff - and that's the dream life I've built for myself.
I hope this article inspires you to do the same. ( That is - build your dream life ☺️ )
---
I share my startup experiences on a monthly basis. If you want to be updated when I post new stuff,
subscribe to my newsletter
or follow me on
Twitter
/
LinkedIn
.